History of Endon Wedding Cars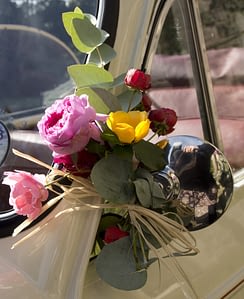 As a family, we have had classic cars for many years and we were delighted when our son and his fiancée asked if they could use 'Rosie', our Morris Minor convertible, as their wedding car. The day was a great success and Rosie proved that she was well suited to being a wedding car and later that same year a friend's daughter used Rosie as her wedding car and this was also a great success.
Our classic Old English White Morris Minor convertible car lent itself so well to being a distinctive and original wedding car, so much so that we decided to share the experience with other brides and grooms and Endon Wedding Cars was born.
We purchased 'Daisy' in October 2013 and 'Poppy' in 2014. They are both Old English White classic Morris Minor convertibles with a red roof and interior, and they complement Rosie perfectly.
Morris Minor convertible cars are ideal for a summer wedding, and so much fun to travel in but imagine our dilemma when our youngest son and his fiancée announced that they were planning a December wedding. After a lot of thought, we decided to buy another car, one more suitable for a winter wedding, and eventually, we saw 'Pearl' advertised for sale. We travelled to Swansea to meet her and bought her home. While we were there, however, we also met 'Sapphire' and instantly fell in love with her. She is the most beautiful Beauford we had ever seen, we just couldn't resist her, so we bought her home as well.
We are passionate about our service and very proud of our cars and the interest and support which has been generated in Endon Wedding Cars both by recommendation and social media via Facebook.
If you are interested in booking one or more of our cars for your wedding, please get in touch.
We offer a personal bespoke service tailored to your individual requirements, based on the vehicles chosen and the locations involved.